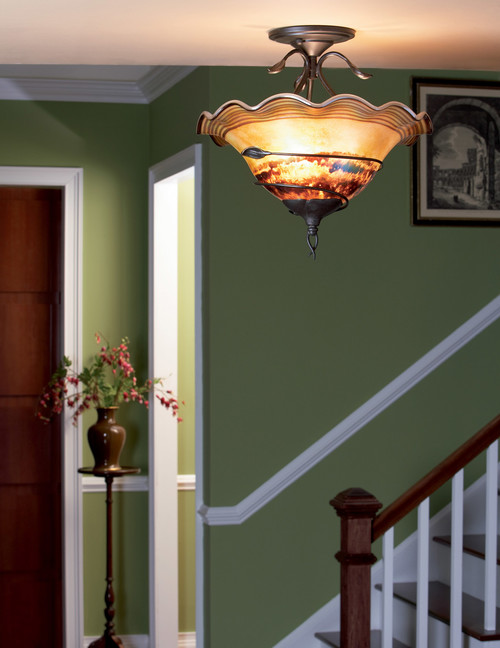 Ideal in rooms with a low ceiling, a semi-flush mount ceiling light has the relatively smaller size that a flush mount fixture offers while at the same time providing the elegance and charm similar to that of a chandelier. This type of lighting fixture usually hangs about 4 to 8 inches from the ceiling. Selecting a semi-flush is similar to choosing any other light fixture. Personal style and preference play a major role in the decision making, as is the main use of the space.
Take Measurements
Check the location where you plan to mount the fixture. You will need to determine the height of the ceilings. You will also need to know what you will have to cover up. If there used to be a flush-mount light fixture installed, this area on the ceiling may need to be patched and painted before you can start installing your new semi-flush mount ceiling light fixture.
Location and Use
Determine how you intend to use the space. Entryways and hallways will need general lighting that is enough for people to see where they are going and safely walk around. Reading areas and closets will need brighter lighting so that the eyes do not get strained when reading and also so that it is easier to sort through clothes. If you plan to install your semi-flush fixture in a walkway, you need to make sure that even your tallest guest is able to walk comfortably underneath your new lighting fixture.
The Right Size
When choosing the size of your semi-flush mount, make sure that the fixture's height is appropriate for its intended use and for the space that it will occupy. Also, select a fixture that will fit your home.
The rule of thumb when selecting a semi-flush mount is: Add together the width and length of the room in feet. Convert this sum to inches to get the approximate width of the fixture. Note that, like all rules, this one does not apply to all situations, so use this as a guide but also use your best judgment.
Luminosity
Ask to see the semi-flush mount when it is illuminated. Looking at the fixture from its box or on the store shelf is not enough to give you an idea of how it will actually appear in your own space. The store personnel should be able to demonstrate the fixture with its recommended light bulb and wattage. Inquire about the maximum wattage that the fixture will allow so you also have an idea how bright the fixture could be.