Lighting can be a make-it or break-it element of a room. Serving aesthetic and functional purposes, it can impact everything from the perception of space and color to mood and atmosphere. For design professionals, it's no surprise that the type of lighting chosen for any given project is a carefully considered one.
Modular systems are a go-to for trade professionals to achieve that ideal balance of form and function. These highly customizable fixtures are flexible enough to be used in a residential kitchen design or a wide-open commercial space, creating both a stunning visual effect and providing ample illumination for the room's needs.
SONNEMAN, a go-to brand for the design community, offers a line of modular lighting systems that deliver that flexibility alongside its signature minimalist and modernist look. Pioneered by Robert Sonneman, the brand is beloved for its architecture-inspired silhouettes and its commitment to the principles of modernism. Sonneman himself has been creating award-winning designs for 60 years and is recognized and celebrated throughout the industry. The combination of straightforward design with functionality goes hand-in-hand with the adaptability of the brand's lighting styles.
The Infinite Possibilities of Modular Lighting Systems
If we had to sum up SONNEMAN's lighting systems in a word, it would be: versatile. These fixtures bring versatility in customization and configuration to suit a wide range of applications and design aesthetics. These fixtures can be used singly or in small groups and in huge clusters, but both applications enhance the functionality and beauty of a space.
Here are a few examples of how SONNEMAN's modular lighting systems can flex to the needs of a space:
Cubix Chandelier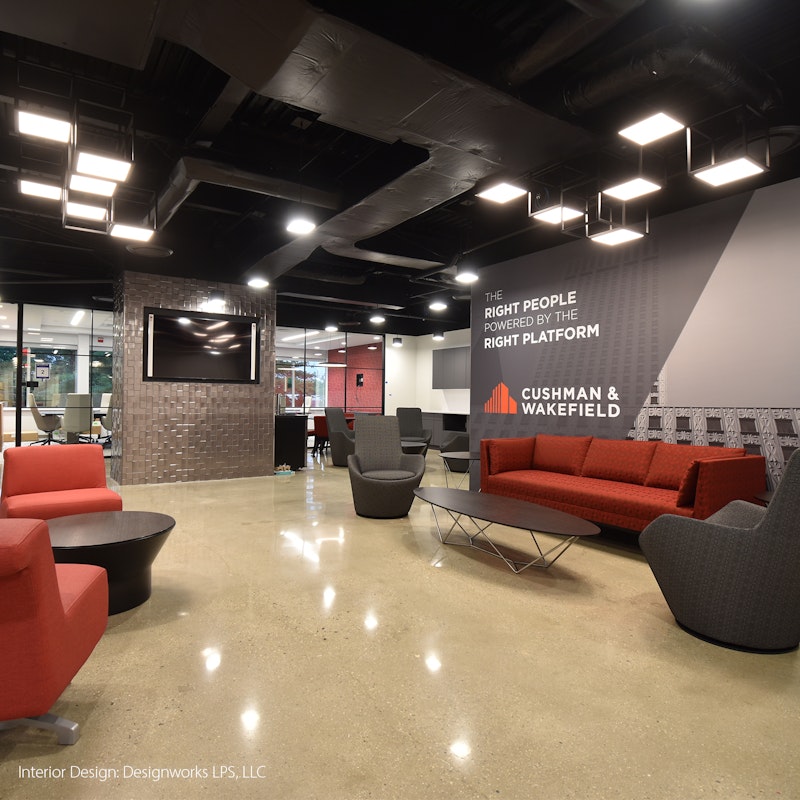 Designer: Designworks LPS, LLC
Cushman & Wakefield's New York City office uses varying configurations of SONNEMAN's Cubix Chandelier. A shared leg on each frame joins these suspended cubes together, so each cube is set in a vertical position to the next. The design allows for expansive horizontal and vertical arrays across the plane and height of a space. The Cubix design is also available in a surface mount with a minimal height profile for the same aesthetic.
Corona Pendants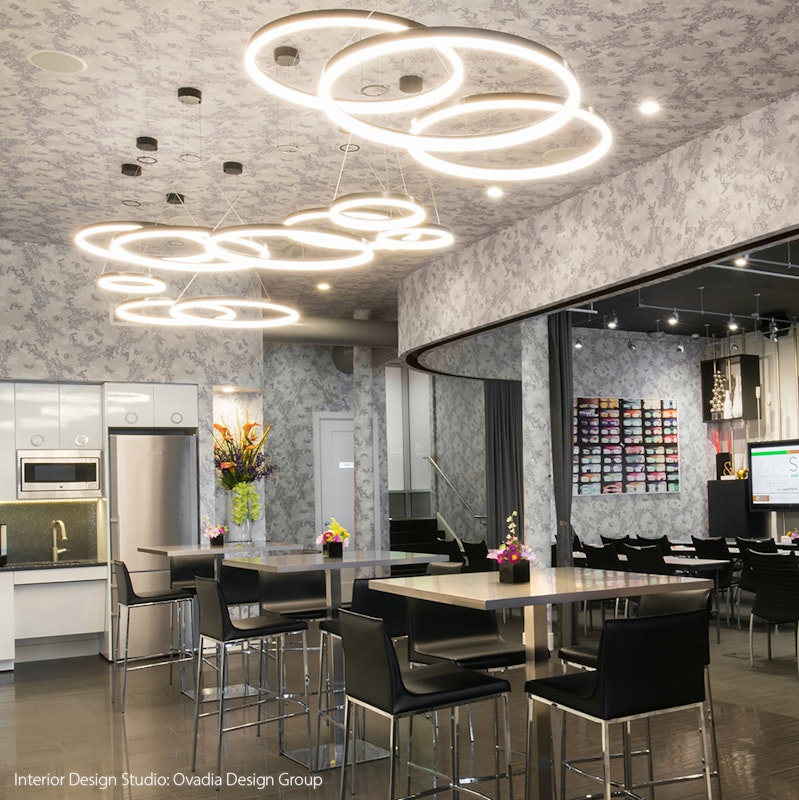 Designer: Ovadia Design
Ovadia Design used multiple sizes of SONNEMAN's Corona Pendants to enhance this corporate meeting venue in Chicago with dynamic profiles of light. Hung at slightly varying heights, the pendants deliver the impact of a large, avant-garde or custom fixture. The LED Corona Pendants are available in two shapes and a range of sizes, making it ideal for the simplest of applications or a matrix of sizes and shapes to maximize the design impact.
Abstract LED Surface Mount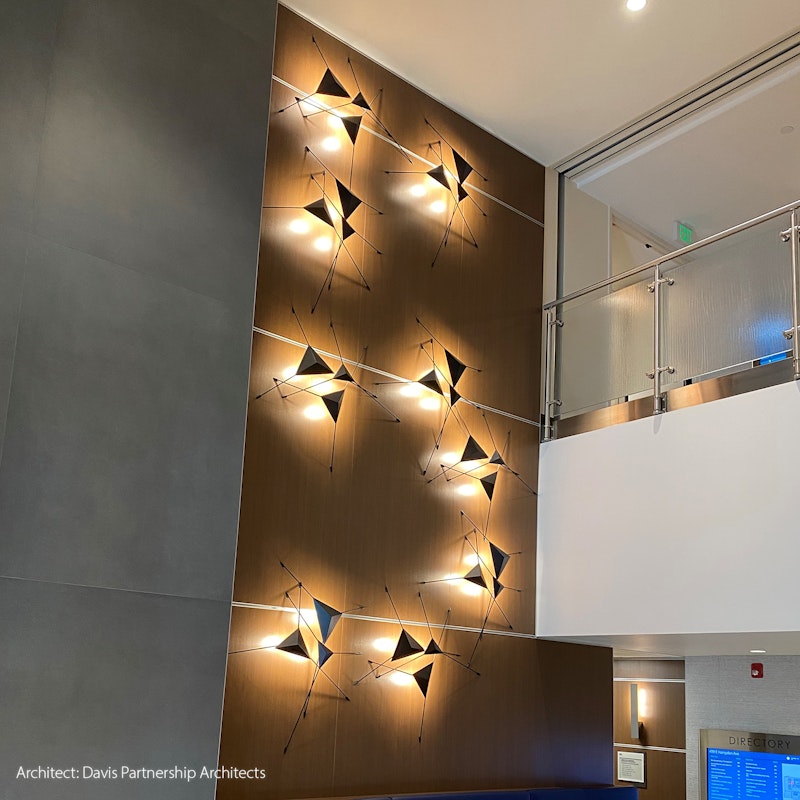 Architect: Davis Partnership Architects
A stunning configuration isn't reserved for ceiling lights. Davis Partnership Architects used multiples of SONNEMAN's Abstract Surface Mounts in clusters to create sculptural illumination along the wall in this Colorado medical center. The fixtures use thin tension rods to allow the prism-shaped reflectors to hover over a wall or ceiling to reflect indirect light onto the surface below it. With three sizes, these lights can be arranged in endless configurations to create a striking visual effect.
Suspenders Collection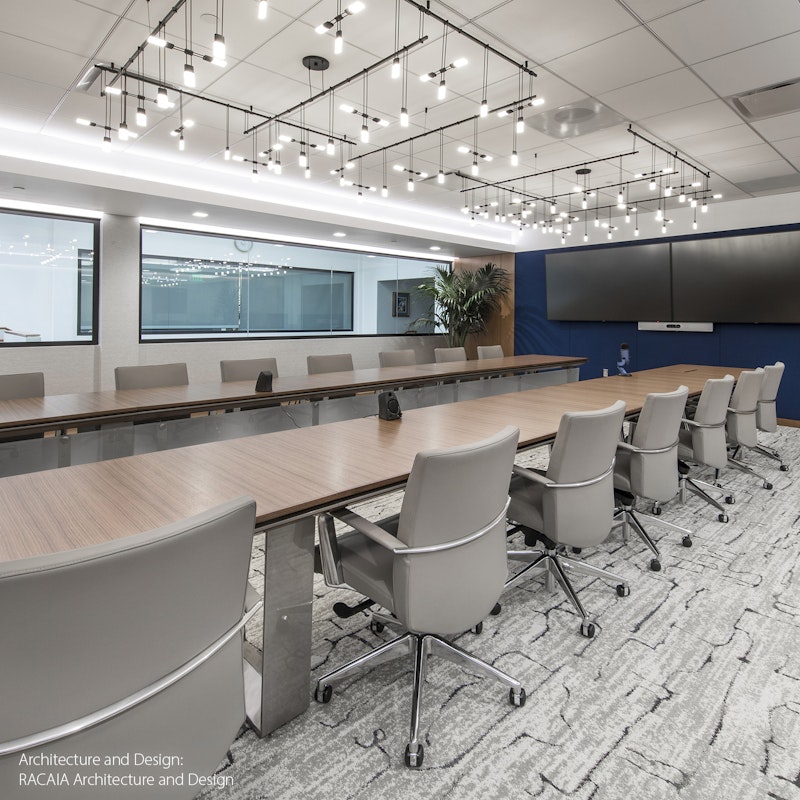 Architecture and design: RACAIA Architecture and Interior Design
Typically harsh conference room lighting becomes functional and decorative in this Los Angeles conference room designed by RACAIA Architecture and Interior Design. SONNEMAN's Suspenders harmoniously integrate bright LED illumination with a design that is both minimal and dynamic, especially in a large configuration. The Suspenders modular system can be customized or purchased as recommended, pre-configured SKUs.
The limitless possibilities of these collections make them ideal for trade professionals looking to achieve that perfect balance of form and function. SONNEMAN's in-house Applications Engineering and Quotes teams can also work with customers on special projects to recommend configurations of their modular systems.
No matter the configuration, SONNEMAN's modern lighting fixtures can enhance the beauty and functionality of your next residential or commercial project.
Capitol Lighting PRO members enjoy up to 30% off consumer prices, plus personalized service, early access to products and more. Become a PRO member today or for larger commercial and hospitality project needs contact our PRO team.
For further inspiration, check out our summer online catalog.